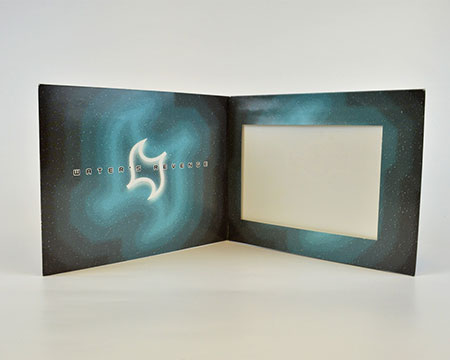 Folder images are for demonstration purposes only and represent the final product as accurately as possible.
Folder templates
DOWNLOAD FOLDER TEMPLATE HERE
Spot UV is the application of a liquid, according to your design, which is then dried under ultraviolet light. When dried the finished result is a clear, shiny coating which catches the eye and has a distinct smooth feel. It really stands out and makes a lasting impression.
Your folders can be supplied with or without a capacity of 5mm. This is a pocket which is found on the inside of a folder, enabling them to carry (up to 5mm) any other promotional material you require.
We strongly advise you consider adding laminate to your folders. Laminate is a protective coating to either the outer side only or both sides of the folder. Laminate has the effect of making the folder feel sturdier whilst protecting the spine and giving the folder a professional feel. Available in matt or gloss.
Should you require smaller quantities, please contact the sales team at DWJ on 01792 704 880 or message us using the link 'contact us'. Other stocks are available on request - e.g., uncounted, recycled.
You can add artwork files to your order by selecting the 'Artwork Supplied' dropdown option on the product page of your choice. Simply click on the 'Choose Image' button and you can locate your artwork of choice, as well as utilise a host of editing tools. If you do not attach an image to your order, or simply forget, you can email us on contact@folderprintingdirect.co.uk with your artwork and order number.
Free Artwork Check | contact@folderprintingdirect.co.uk
Unsure about your artwork, you can get a free check with us! Please note this is the same checks we carry out on all orders. 

Artwork Team | contact@folderprintingdirect.co.uk
If sending artwork for an order please use the above email address.
Remember to include your order number in the subject line! 

Customer Services | contact@folderprintingdirect.co.uk
For general enquiries regarding orders and quotation requests please contact our customer services team using the above following email address.
Most presentation folders are despatched within 8-10 working days from your approval of artwork to go to production. This is a standard delivery costing £35. We also offer an express service of within 6 working days for an additional £14. 

Folders with extra finishes such as lamination or spot UV can take slightly longer, as can larger quantity orders.  Our standard turnaround time may not be possible at times of exceptionally heavy workload . Likewise if you have a specific delivery requirement, it is essential that you make our staff aware of this when ordering, in order to confirm that it can be met. All folder orders are packed in secure, double-walled boxes to prevent damage in transit and our prices include free delivery to one location in mainland Britain. 
Delivery will be by a company vehicle or couriered through FedEx, Interlink, DPD or a trusted 3rd party.
TURNAROUND TIMES
Turnaround times begin ONLY when the following criteria have been met:
Your order has been received, processed and payment approved.
You have uploaded your artwork for your job.
You have viewed your proof and approved your job for production.
After approval, Quality Control personnel may stop your job if they believe your artwork has defects (i.e. low resolution) that will cause it to print unsatisfactorily. In this event, you will receive an email message notifying you of this, and your job will be put on hold until you re-submit and re-approve new artwork or confirm you wish to send the job to press as-is. While a job is on hold in this manner, the production clock is ON HOLD. Folder Printing Direct is not responsible for expediting your order if time is lost as a result of the customer's failure to meet production design requirements.
All turnaround times are based on business days. Monday through Friday and exclude all bank holidays.